Let's See The App Features!
mobile_friendly
Direct & Easy To Use
Simple user interface to pay parking with only 2-step activity simply by touch your vehicle number and choose preffered duration for parking. Click here to view Quick Start Guide.
public
Paperless & Cashless
All of the receipts are in digital formats for easy keeping and the app using Prepaid Credit that can be purchase by online banking, credit card and more.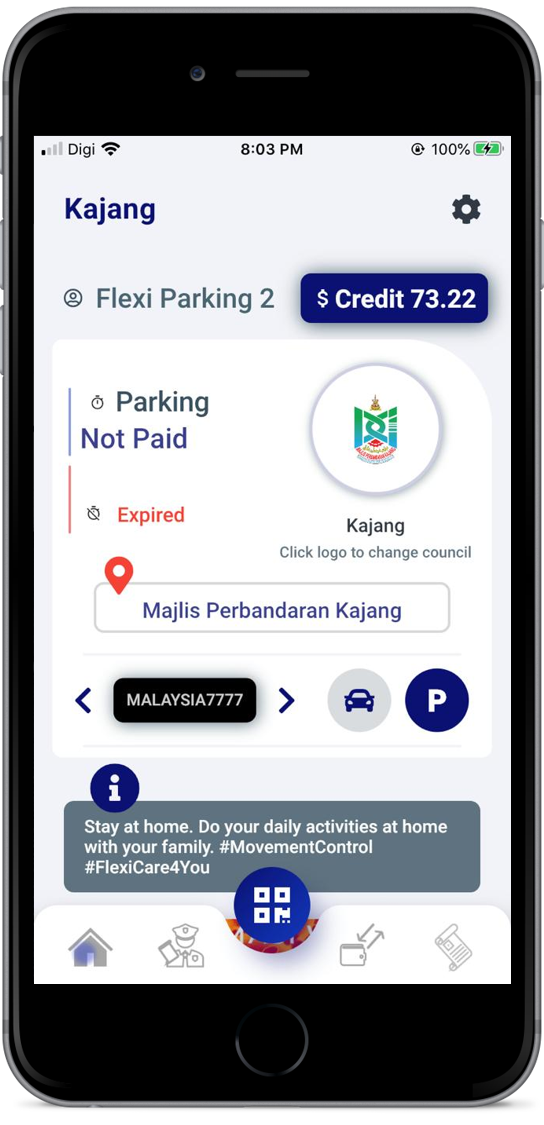 group
Share
Pay parking or compound for family or friends by register their vehicle number in your app account, or transfer Prepaid Credit to their app account.
add_to_home_screen
Flexible
A notification to remind user before parking expire and easy parking duration extend. The app will not allow to pay parking outside valid parking hours and on holidays.
---
Install the Flexi Parking™ app
To install the application, search for "flexi parking" in Google Play Store / Apple App Store / App Gallery. Install the application and launch it.
Register as a new user
Click on register, fill up the information requested and then submit the information. Upon successful, you may log in.


Choose The Right State
Select the state that you are currently at. There are 3 state options which are Smart Selangor Parking for Selangor, Wilayah Parking for Wilayah Persekutuan, and Off-Street Parking for gated parking.
Choose The Right City Council
Select the city council that you are currently at
Add Your Vehicle Number
Add in your vehicle number into the "Empty" slot. You may add more than one vehicle number by clicking the next button.
Purchase Prepaid Credit
Touch on credit balance button to start online credit purchase. Select the desired amount or monthly pass and then follow through the steps to login to secure online banking.
Parking Payment
Parking payment is easy with just a touch on the vehicle number you want to pay with 2-step payment, by cliking the vehicle number and pay for the parking.
---
Parking
&
Compound Payment Guide