Why Use Flexi Parking EV Charging ?
mobile_friendly
Autonomy
You can have full control on managing the EV charging station.
check_circle
Efficiency
Provides further charging cost information for you.
dashboard_customize
Convenience
You can pay compound, parking, locate EV charging station and charge your car with just one app (Flexi Parking App™)
eco
Eco-Friendly
For better environmental friendly technology approach.
Understanding Our EV Charging Terminology
The speed of the AC charging powe is determined by the vehicle on-board charger. The supplied charger is always at 22kW power output for 3-phase and 7kW power output for single phase. Hence, the charging power output will follow the power requested by the vehicle on-board charger or the maximun power output from the charger, whichever is smaller.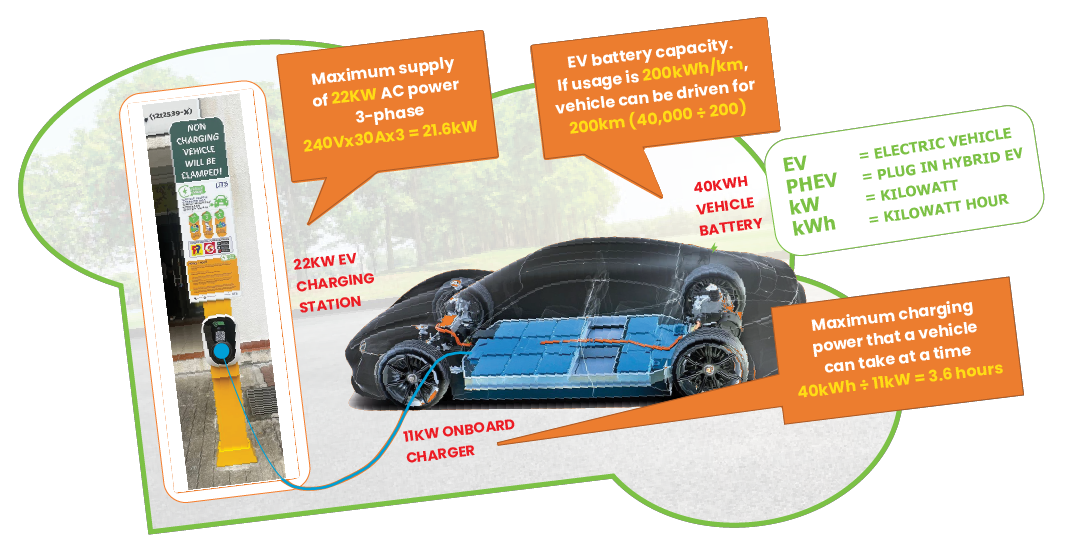 Reminder: Charger cable will not be provided. Users must bring their own cable compatible with a type 2 charging outlet.
electrical_services
Type 2 Cable Plug
Most EV has a connection Type 2 such as (BMW, Volvo, Merc, Renault, Kia, Porsche etc.)
Vehicle Types
Estimated Charging Time
PHEV 8KWh (On Board 3.7KW charger)
2.4 hours (~ 30km)
EV 40KWh (On Board 7KW charger)
6 hours (~ 250km)
EV 60KWh (On Board 11KW charger)
6 hours (~ 375km)
EV 80KWh
(On Board 11KW charger)
8 hours (~ 500km)
EV 80kWh
(On Board 22KW charger)
4 hours (~ 500km)
How To Use Our EV Charging Station ?
---